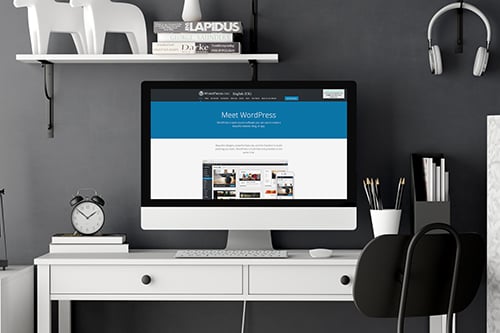 What is WordPress?
WordPress is website content management software. A content management software allows you to easily create and manage the content of your website via any browser.
WordPress is, by far, the most advanced CMS (content management system) in the world.
Even better, WordPress is completely free. Indeed, it is an "Open Source" project, which means that hundreds of volunteers from all over the world are constantly creating and improving the code for WordPress software. Finally, there are thousands of plugins and widgets that allow you to build a fully customised website to do just about anything you can imagine!
There are many reasons to use WordPress to create a website. To mention the main ones:
WordPress is easy to use
WordPress is extremely easy to use. It can be configured very quickly, and is very user friendly. The management of pages, themes, links, media and plugins is fluid and simplified. It is not necessary to have notions in any coding language to be able to use it.
In addition, WordPress has become a global benchmark for site creation, so it is very easy to find
tutorials for beginners, or the answer to a more technical question using Google.
WordPress is flexible and extensible.
There are literally thousands of plugins and themes that allow you to change the look of your website and add functionalities to it.
WordPress is SEO Friendly
WordPress is written using high quality standard code with semantic markup that is highly valued by search engines. It is the most suitable CMS for search engines.
The site designed under WordPress can also be enhanced with high-performance SEO extensions specially designed for the platform. Some of them, such as Yoast, are quite powerful, while remaining free in their basic version, which is considered sufficient for most users.
WordPress is secure
This CMS was developed with the importance of security in mind. It is considered secure to run any website.
To increase this security, you can also find numerous very good plugins such as Wordfence.
Here are the main elements that make WordPress the best choice to start publishing on the Internet, all this being made possible by the very large developer community, and because WordPress is also Open Source.
If you want help from someone experienced to configure your WordPress website, then do contact us!