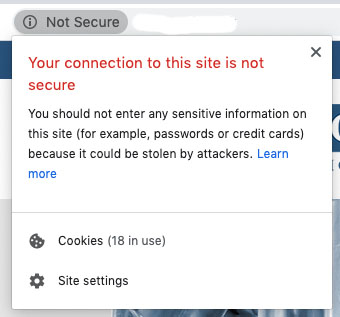 What is a SSL certificate and why use it for your website?
Developed by Netscape, SSL (Secure Socket Layer), also known as TLS (Transport Layer Security), is a certificate that allows a secure connection between the user and the server of a website using very high encryption.
Do I have to use a SSL certificate for my website?
A website can operate without an SSL certificate. In this case, though, you are not offering your visitors the possibility of communicating securely with it. If it is a personal blog, nothing dramatic occurs, but if it is a website on which personal information may circulate, it should secure it and reassure your visitors. Thus, your website will give a much more professional image, concerned about the security of its customers' data. As well as this, it will help your Google rankings.
SSL and SEO
SSL certificates do more than protect your data. Believe it or not, they can also help your site to rank higher in the search engines.
Google wants all sites to have SSL certificates, and they have made no secret of their efforts to reward compliant sites. As early as 2014, they started giving HTTPS sites a little boost in search results, and in December 2015, Google even admitted that they were prioritizing these more secure sites.
SSL and users
As of January 2017, all web pages without an SSL certificate are flagged by Google Chrome as unsecured if they contain a form. This practice has been extended to all web pages without an SSL certificate visited in private browsing.
Google's long-term goal is to serve all web pages over the HTTPS protocol.
You can find more info about this on the Wired blog.
With this increasing pressure to have more SSL coverage, sites with an SSL certificate will likely continue to benefit from Google's search algorithms. This means that even for simple websites that do not require customer data, having an SSL certificate will help your site's rankings in organic searches.
Installing an SSL certificate has several advantages and should be considered important if you do not want to lose visitors to your site or lose the opportunity to sell your products.